Silverbeet also known as Swiss Chard, Seakale Beet and Rainbow Chard depending on the colour.   Silverbeet is a delicious powerhouse full of vitamins and minerals, such as iron and magnesium, but it is not just a healthy vegetable. It adds a pleasant crunch to pies, quiches, stews, curries, and pasta, as well as a welcome addition to salads.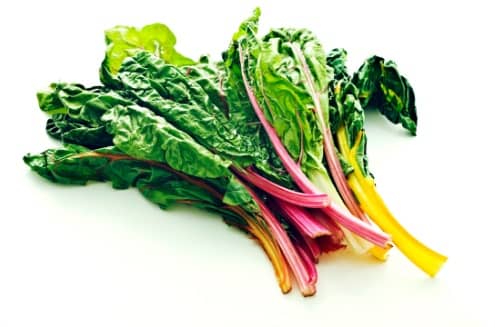 Rainbow
As with some vegetables, Silverbeet comes in a variety of colours including Yellow, Red, White, and Purple, all the colours of Silverbeet.
White
The white variety of silverbeet is often mistakenly referred to as spinach, silverbeet is identifiable by its stems, stalks and the veins on its leaves.
Silverbeet is a healthy source of iron, vitamins K, A and C and calcium. It is full of antioxidants and the vitamins within it help to prevent inflammation. Silverbeet contains potassium, which helps to maintain blood sugar levels plus a high fibre content which is helpful in reducing blood cholesterol. It is very beneficial for skin health due to the role that vitamins A and C play in the production of collagen. The presence of magnesium promotes hypertension and cardiovascular disease. It is also beneficial for anaemia, because of its iron content. Silverbeet also contains B complex vitamins, which can relieve fatigue and depression.
NB: Silverbeet contains oxalates, which are slightly reduced by cooking and can bind to calcium, a concern for people prone to kidney stones.
Links to some fabulous recipes
Expand your tastebuds and head to www.taste.com.au or www.delicious.com.au for amazing Silverbeet recipe ideas.